Spam© and Egg Breakfast Hash
teresas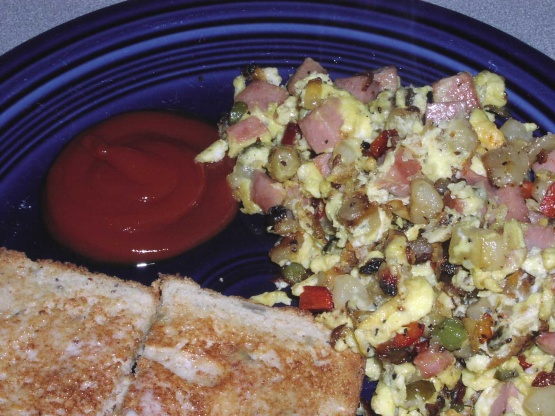 I had a half a can of SPAM© leftover from BBQ Beans and Spam.And this is what I came up with.Serve this with toast or biscuits along with some fruit and you will have a breakfast your whole family will enjoy.Submitted to "ZAAR" on October 6th,2007.

We loved this. I made it for a light dinner. I cut the recipe in half but added in some chopped red and green peppers along with the onions. Made just the right amount for 2 servings. Wonderful dish that will be made again. Thanks shapeweaver for posting.
In a medium sized bowl,scramble eggs until pale yellow in color and fluffy.
Set eggs aside.
In a medium sized skillet over medium heat add oil.
When oil is hot but not smoking add onions.
Saute' onions for 3 to 5 minutes,add potatoes,and sprinkle with salt and pepper.
Cook potatoes until lightly browned.
Add SPAM© and cook until meat has a slightly browned color.
Pour eggs over meat and potatoes,let eggs sit on potatoes for about 3 to 5 minutes.
Stir eggs into potatoes until desired doneness for eggs is reached.