Spaghettini With Smothered Onions
dicentra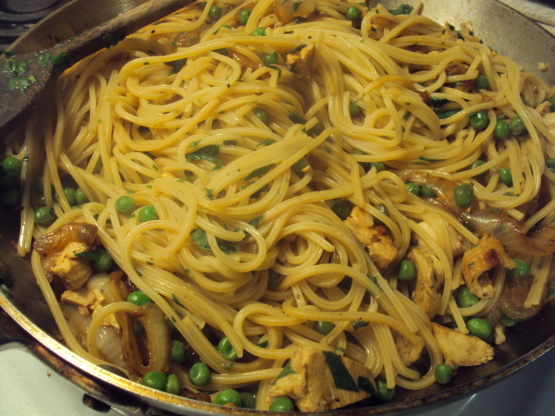 From 365 Delicious Low-Fat Recipes.

Very simple and tasty. A couple of notes ... I did use fresh thyme vs dried. I think the flavor was much better. Just my personal preference. I also used more garlic, but again, I LOVE garlic. My last note is that I didn't cover my onions, they tend to sweat more whereas uncovered they brown. Fifteen minutes and they were golden brown uncovered. Lots of salt and pepper.

I loved it. The swiss was really nice with it. Served it as a side under some grilled chicken and portabellos.
In a large skillet, heat olive oil over medium heat. Add onions and garlic and toss to coat with oil.
Reduce heat to low, cover and cook, stirring, until onions are very tender and a deep golden color, about 15 minutes.
Stir in chicken broth, thyme and pepper.
Meanwhile cook the pasta. Drain.
Place pasta in a large bowl. Add peas and browned onions. Toss to combine.
Add cheese and parsley and toss again. Season to taste with salt and pepper.