Spaghetti With Zucchini, Walnuts and Raisins
jlw19803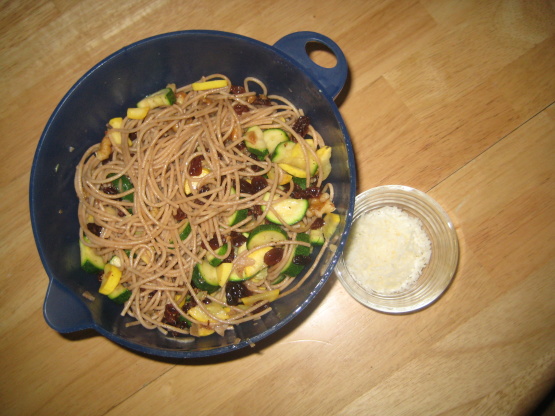 Light, easy pasta recipe for weekdays/nights or a picnic. Discovered in a RealSimple magazine.

Super good!! There wasn't anything I didn't love about this dish. I used a little bit more zucchini, and added the pasta to the nut, raisin and zucchini mix and let it cook for a minute or two to absorb all that yumminess. Other than that I made no changes to the recipe. I'll be making this again. Thanks for the keeper!
Cook the pasta, drain and return to pot.
Meanwhile, heat the oil in a large skillet over medium-high heat. Add the walnuts and cook stirring frequently until they begin to brown (3-4 minutes). Add the garlic and cook, stirring frequently, until beginning to brown (~ 1 minute).
Add the zucchini and raisins to the skillet, season with 1/2 tsp salt and 1/4 tsp pepper, and cook tossing occasionally, until the zucchini is just tender (4-5 minutes).
Add the zucchini mixture to the pasta and toss to combine. Sprinkle with the Parmesan before serving.