Spaghetti with Zucchini and Garlic
Parsley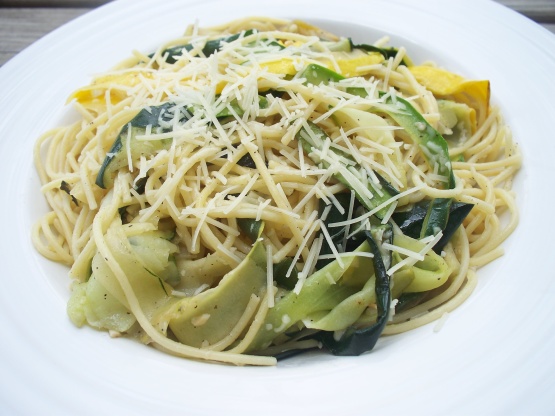 Simple and elegant, a great way to use zucchini!

What a wonderful supper we had last night. This recipe turned a few simple ingredients into a real tasty and very simple meal. I used medium size zucchini. I think I used a little more than 1/2 cup cheese. I just added until it looked right. Cook time was just right. Thanks Sharon. You have some wonderful vegetarian recipes.
Pile up 2 or 3 layers of paper towels on a work surface.
Working on the paper towels, shred zucchinis using a grater holding the zucchini at an angle.
Heat a large skillet over moderate heat.
Add extra-virgin olive oil to the pan Add chopped garlic to the oil.
When garlic starts sizzling in oil, add shredded zucchini.
Season zucchini with salt and pepper.
Saute shredded zucchini 7 to 10 minutes.
Add hot, drained pasta to the pan.
Toss spaghetti with zucchini and garlic oil.
Add a couple of handfuls of grated cheese to the pan.
Adjust seasoning and serve.