Spaghetti With Turkey Meat Sauce
Derf2440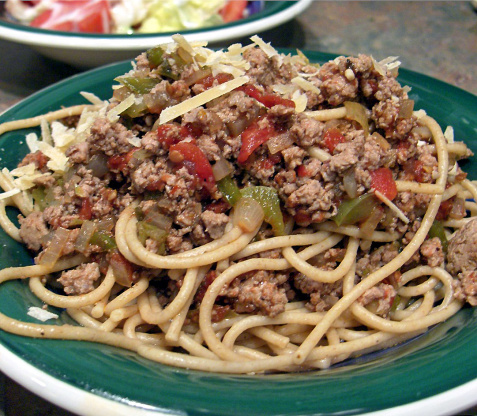 Using nonstick cooking spray, ground turkey, and no added salt helps to make this classic dish heart-healthy. This is a really good dish! hope you enjoy it!

We enjoyed this a lot, but found it just a little bland, I added some red pepper flakes to liven it up some and sprinkled shredded parmesan cheese on top at the table. I used whole wheat spaghetti and just made half a recipe for the two of us and i will make it again, thanks for posting.
Spray a large skillet with nonstick spray coating. Preheat over high heat.
Add turkey; cook, stirring occasionally, for 5 minutes. Drain fat and discard.
Stir in tomatoes with their juice, green pepper, onion, garlic, oregano, and black pepper and Bring to a boil.
reduce heat and simmer covered for 15 minutes, stirring occasionally. Remove cover; simmer for 15 minutes more. (If you like a creamier sauce, give sauce a whirl in your blender or food processor.)
Meanwhile, cook spaghetti in unsalted water. Drain well.
Serve sauce over spaghetti.