Spaghetti With Summer Tomatoes
Rita1652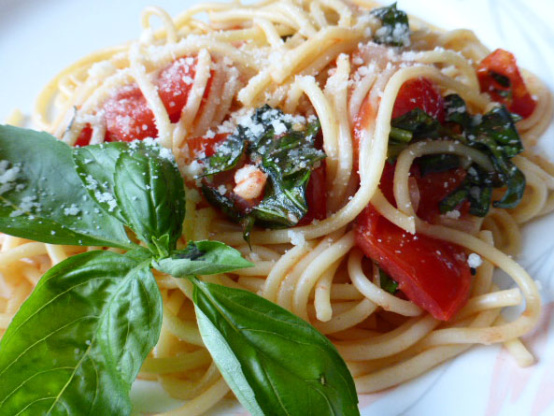 Recipe source: From the Farmer's market.

Delish! Light and refreshing for a hot summer day. I did use garden fresh picked plum tomatoes and a 1 fresh picked cayenne minced in place of the flakes. I'm not a big spaghetti fan but really enjoyed it in this dish. I drizzled EVOO over the finished dish and a sprinkle of grated cheese. This would be extra tasty topped with toasted pine nuts. ;) Thanks for the good eats. Made for veggie tag.
In a large skillet combine cherry tomatoes, yellow cherry tomatoes, shallots, olive oil, red pepper flakes, salt and pepper.
Bring to a simmer over medium heat.
Simmer for 5 minutes or until tomatoes are tender.
Remove from heat.
Bring a pot of water to a boil over high heat; add spaghetti and cook according to package directions.
Just before pasta is done reheat sauce.
Slice basil leaves and add to the sauce.
Drain pasta and return to pot.
Add sauce to pasta and toss.
Serve.