Spaghetti With Shrimp and Mushrooms
Annacia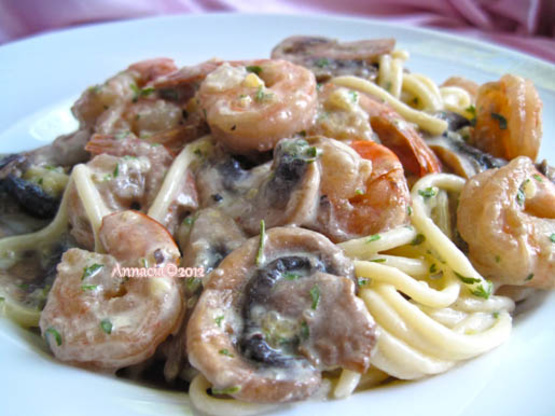 From Creative Everyday Cooking. "Tossing hot spaghetti with beaten egg adds richness---for a minimum of calories---to this simple pasta dish." Do - ahead: The shrimp can be shelled and deveined ahead. The mushrooms and scallions can be cut up ahead, and the beaten egg mixture can be prepared a short while before cooking. Submitted to www.recipezaar.com on Feb. 18, 2010.

I had to use dried parsley as there is no fresh available here. For us the mustard was on the strong side and over powered all of the other, more delicate, flavors of the dish. I would surely make this again but I would use half the dry mustard (or maybe omit if altogether). I don't know why but the shrimp absorbed some of the dark color of the mushroom juice. I've never had that happen before but it didn't hurt the taste any at all.
Bring a large pot of water to a boil.
Shell and devein the shrimp. Slice the mushrooms and coarsely chop the scallions.
Add the pasta to the boiling water and cook until al dente, 10 to 12 minutes.
Meanwhile, in a serving bowl, beat the egg. Stir in the half-and-half, Parmesan cheese, parsley, anchovy paste, mustard and pepper. Set aside.
In a large skillet, warm 2 tablespoons of the olive oil over medium-high heat until hot but not smoking. Add the mushrooms and garlic and stir-fry until the mushrooms are almost limp, about 5 minutes.
Add the remaining 1 tablespoon oil and the shrimp, stir-fry for 2 minutes. Add the scallions and stir-fry until shrimp turn pink about 2 minutes longer.
Drain the pasta in a colander. Add the hot pasta to the beaten egg mixture and toss to cook the egg as well as coat the pasta. Add the shrimp-vegetable mixture and toss to distribute evenly. Serve hot.