Jubes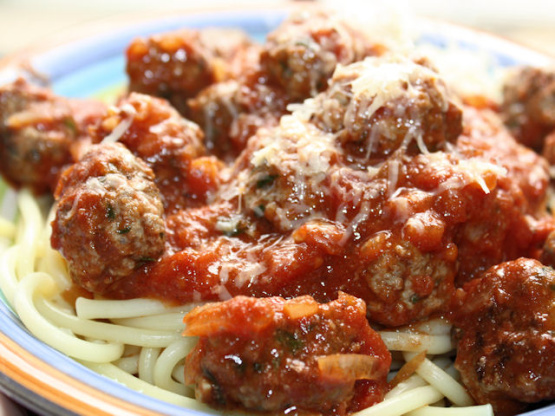 A recipe from a National Supermarket chain as part of feed your family (based on 4 serves) dinner for $10 or less (that is aussie dollars and based on local prices for produce or chain specials at time of publication. Times are estimated. Though recipes recommends 500 grams of spaghetti I would only use about 350 grams for us and serve with a side salad of greens, tomatoes etc.

Top Review by Tisme
So easy to prepare! I made the meatballs using the oven option. I did use premium mince and baked them on a wire rack over an oven tray, which drained off a lot of fat. But they did taste great and it worked very well. One tip is when rolling the meatbalss, that wetting your hands makes the job of rolling a lot easier! The sauce is wonderful and also so very quick and easy..... although, I did add some tomato paste to the sauce! A great and easy dish to prepare and very tasty. The family all enjoyed this recipe Pat. Topped with Parmesan Cheese and served with crusty garlic bread this made for a great quick easy and inexpensive meal.
Combine mince, egg and chopped parsley in a bowl and season with salt and pepper.
Roll mixture into small balls.
Cook spaghetti according to manufacturers instructions.
Heat pan and 2 tablespoons oil and fry meatballs for approximately 3 minutes until nearly cooked through and set aside, cook in batches if needed, when completed clean pan.
Add remaining 2 tablespoons of oil and saute onion and garlic in oil for 3 minutes, add diced tomatoes and meatballs, them simmer for 5 minutes.
Serve meatball and sauce over the spaghetti.
Personally would serve with a green/tossed salad.
ALTERNATIVE TO COOK MEATBALLS - Roll mince and place into an alfoil line baking dish and bake at 175C (fan forced) for about 8 to 12 minutes and follow instructions from step 5.