Spaghetti With Herb Sauce
KristinV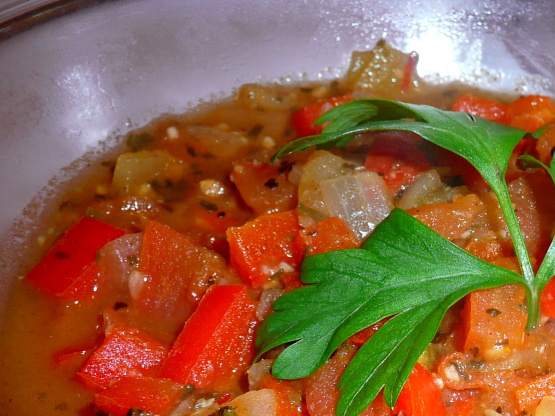 Posted for Zaar World Tour 2005. Made this last night for dinner and was extremely pleased with the results. Very low fat, but I doubt anyone will notice. Herbs and sweet vegetables were wonderful. I used thyme instead of tarragon as I didn't have any tarragon on hand. Very easy to make. Sprinkle with freshly grated parmesan, if desired. From a website featuring Australian recipes. It called for 20 cloves of garlic, but I figured that was a typo.

This was one of those wonderful recipes that you are a little sceptical about as you put it together. I was making it thinking 'This is far to basic to be anything remarkable, tasty sure, but nothing out of this world.' I was SO wrong... I took the first bite of this and everything JUST WORKED and made a simple yet perfectly balanced meal. I used to eat a lot of two minute noodles (Ramen) but got sick of all the preservatives etc. but I can imagine this would be a stellar replacement. Make a batch and keep it in the fridge for the 'just got home' munchies, not to mention an extremely quick and easy meal on those nights you want a break! I also sauted the onions with the garlic but everything else was as per the recipe. Thanks for an amazing recipe Kumquat! Made for ZWT5 Family Picks
Saute garlic in olive oil in large sauce pan over medium heat for 3 minutes.
Add broth and simmer for about 15 minutes.
Meanwhile, start boiling water for pasta, cook according to instructions on package and drain.
Add tomatoes, onion, bell pepper and herbs to broth and simmer for 10 minutes more. Pour sauce over pasta and serve.