Spaghetti With Green Basil Sauce
Jubes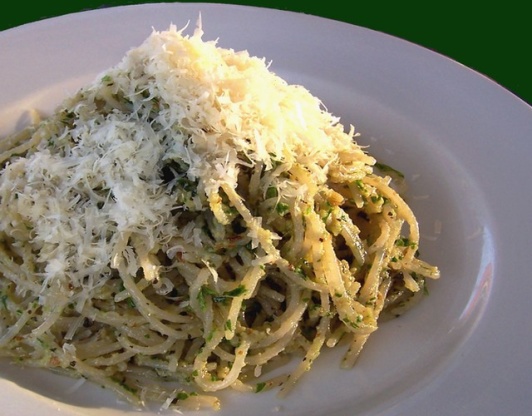 My family loves Basil, and I found this recipe, when I was looking to use an abundance of basil. If you like Basil Pesto, you will like this.

Tasted great, esp. with lots of cheese! I added chicken tenderloins that I marinated in a sundried tomato hummus, which added additional flavor. It also makes a great sauce for a cold pasta salad using penne pasta. Tip: use a food processor, not a blender, to make the sauce. It gets stuck in the blender blades and is really tough to get out.
Combine the parsley, basil, salt, pepper, crushed garlic, almonds, walnuts and oil in a blender. Blend on high speed until smooth, stir in the parmesan cheese.
Cook spaghetti in boiling salted water until tender: Drain well.
Add the softened butter, toss lightly until butter melts through the pasta. Add the sauce, toss well. Serve with extra grated or shredded parmesan cheese.