Spaghetti With Fresh Tomatoes and Basil
Thorsten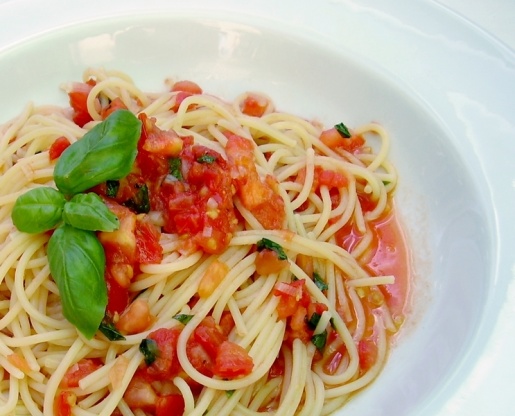 A quick, fresh summer dish. Use fully ripe tomatoes for best results.
I am in the middle of a bumper crop of heirloom tomatoes and was looking for something fast and easy, using what I had on hand. WOW!!!!!! Was I shocked at how yummy this was. Sometimes I have been known to change up the recipes a bit, but on this one I didn't after reading reviews. Even the husband wanted to get his hands into it and add more oil, garlic and basil. I ended up having to ban him from the kitchen while I was making this dish. This was a great surprise!!!! We were fighting over the serving bowl during dinner!! THANKS!
Cook spaghetti according to package directions. Only drain spaghetti, do not rinse.
Meanwhile, cook onions in 1/2 tbs olive oil in a small pot over medium high heat until soft, about 1 minute.
Reduce heat to low. Add tomatoes, sugar, pepper and salt to taste. Stir to mix.
Tomatoes should get warm, but not cooked, about 5 minutes.
When ready to serve add remaining 1/2 tbs oil, basil and spaghetti to tomatoes. Remove from heat, mix well, cover and let rest for 2 minutes. Serve.