Spaghetti With Butternut Squash and Parmesan Sauce
Joanne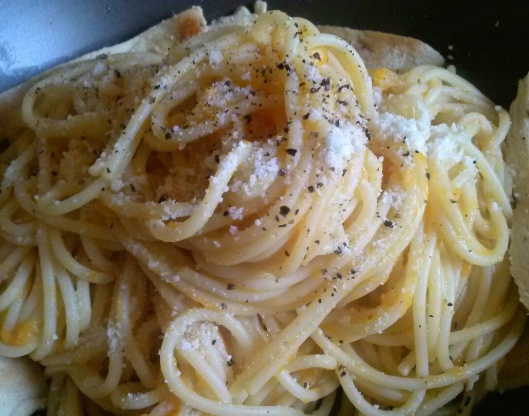 This recipe was adapted from skinnytaste.com. The photo looked so good, I had to make it. I tweaked it a bit and I didn't have leeks, so I used onion instead. But If you have leeks, I would suggest that you use them (I will next time). It was one of the most delicious pasta dishes I have ever eaten. Hope you like it too.
Preheat oven to 350 degrees F.
Place butternut squash in a single layer on a baking sheet. Toss with 2 tbs. of olive oil, and season with salt and pepper to taste.
Bake for 30 minutes. Remove from oven, let cool slightly. Place in a blender or food processor and blend until smooth.
Heat a large pot of salted water to boil for spaghetti. Cook according to package directions al dente. Reserve 3 cups of the starchy pasta water before draining.
Meanwhile, heat a large deep saute pan over medium heat. Add 2 tbs. olive oil, and 2 tbs. butter. Add onions, cook for 3 minutes stirring occasionally, add garlic cook for 1 minute. Add chicken bouillon cube, cook 1 more minute.
Add blended butternut squash, Parmesan cheese, and freshly ground pepper. Cook for 5 minutes, stirring occasionally. Add in the pasta water one cup at a time, add one to three cups depending on how thick or thin you like your sauce (I added about 2 cups).
Toss the drained pasta with the sauce. Mix well to combine.
Top with extra Parmesan cheese if you like.