Spaghetti With Bacon, Garlic and Pine Nuts As I Like It!
nitko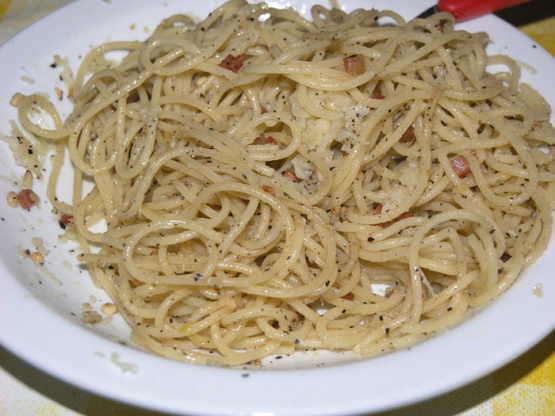 This is very simple meal I cook if I am in a hurry, or have nothing else to eat (I always have ingredients for this meal at home). This meal is also thirsty; requires fine red wine.
Put olive oil in a frying pan and add finely sliced bacon (or Croatian "prsut") and roughly grounded pine nuts and pepper. Fry a bit, than cut the heat and add finely minced garlic. Garlic must not burn; it is enough heat in the pan.
In the meantime, cook spaghetti according to manufacturer manual, but reduce it for 1-2 minutes to be al dente.
Strain spaghetti really well and add on, again heated oil and bacon. Add oregano.
Simmer well to cover spaghetti with all ingredients. Serve with grated parmesan and red wine.