Spaghetti, Tuna and Capers
Thorsten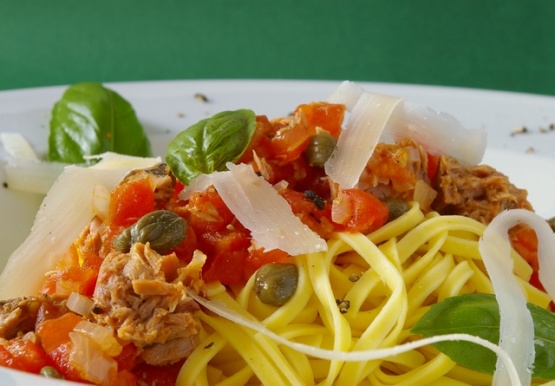 This is a very simple recipe that will have you asking for more. Very healthy too. There are a few variations. This recipe is used in the regions of Naples and Molise in Italy.

Easy, fast and delicious. Do I need to say more? And the best: I always have the ingredients at hand. So in case I need something quick, I could go for it. I like the combination of tuna and capers. And the tomatoes are not overhelming. With their sweet falvours they melt all the different flavours. I used Fettucine instead of Spaghetti and they were great. I think one could add more basil to the dish for another fresh herb flavour. Thanks for sharing.
Drain oil from tuna and place in a heavy based frypan.
Add diced onion and saute until soft and clear.
Meanwhile, in a large pot, boil salted water and cook spaghetti.
Dice tomatoes and add to pan.
Stir the mixture over low heat.
Add salt and peppercorns to taste.
Add tuna to mixture and stir.
Drain spaghetti.
Add capers to mixture.
Place spaghetti on warm plates.
Place tuna mixture over top of spaghetti.
Sprinkle parmesan cheese.
Garnish with a few basil leaves.
The secret of success is to work quickly and make sure that the mixture is not overcooked.
As a variation, olive oil can be substituted with butter.
Fettucine can be used instead of spaghetti.