hipQuest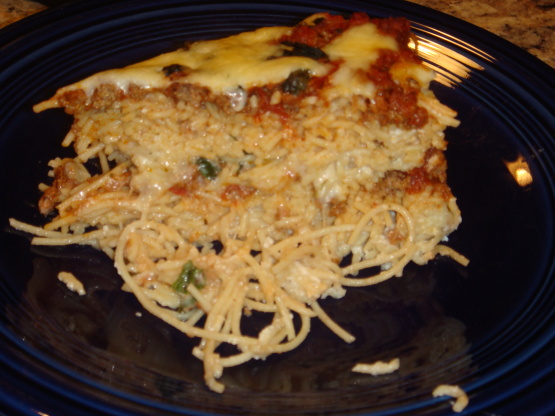 Another recipe delivered to my e-mail from Allrecipes. I'm going to store it here so I can find it when I want it. I have two springform pans and have only used them once. I'm looking forward to using one with this recipe.
This is a great idea! I changed a few things, but they all worked out really well. I used whole eggs, cottage cheese and meat sauce instead of egg whites, ricotta, and fresh tomatos. Everything else was the same and it came out perfectly. Thanks for the great recipe :)
Spray a 9 x 3 inch springform pan with cooking spray.
Cook spaghetti according to package directions.
Rinse spaghetti with cold water and drain.
In a large bowl, combine Parm with ricotta cheese, Italian seasoning and egg whites.
Toss with cooked/rinses spaghetti to coat.
Press half the spaghetti mixture the pan.
sprinkle with half the basil.
top with half the tomatoes
place half the provolone cheese on top of tomatoes.
Repeat last 4 steps with remaining half of ingredients.
Bake in preheated 350 (F) degree oven for 30 minutes.
Let stand about 15 minutes.
Remove sides of pan.
Transfer to a serving platter, cut into wedges to serve.