Spaghetti Topped With Crispy Bacon and Breadcrumbs
Rita1652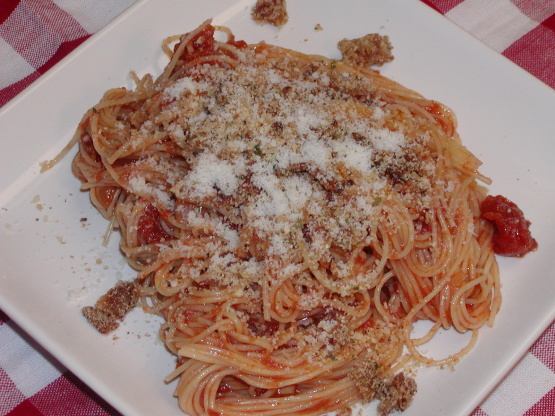 Spaghetti with a difference. Serve with your favourite glass of Aussie Red!

Top Review by Debbb
This was a really nice pasta dish! Very flavourful! I just didn't get the breadcrumbs... Because there didn't seem to be enough sauce for the amount of pasta called for, I didn't want to add the breadcrumbs & make it even drier. So, I just served on the side.
Heat 2 T of oil in a large skillet over medium heat.
Add onions and sugar and cook until onions just start to colour.
Add tomatoes breaking them up with a fork.
Season with salt and pepper, turn heat to low and leave to simmer for about 1 hour or until reduced to a thick sauce.
Cook spaghetti in rapidly boiling water, drain.
While the spaghetti is boiling grill (broil) the bacon until crisp, then crumble.
Fry the breadcrumbs in the remaining oil until golden and then drain well.
Toss the cooked spaghetti with the sauce in a large bowl, sprinkle with nutmeg and add the bacon, breadcrumbs and parmesan.
Serve with your favourite glass of Aussie Red!