Spaghetti Squash With Tomatoes
Nimz1466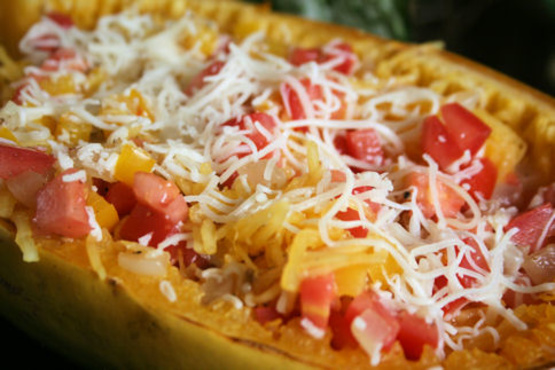 This is such a simple dish to make. It is loaded with flavor! Best when using fresh garden vegetables and herbs.

Wow! I had some leftover spaghetti squash from a previous recipe (which was terrible). Thought I would give this a try instead of throwing out the rest of the squash. I'm so glad I tried it. It was superb! Light and full of flavor! I omitted the butter and cheese (didn't have any), and it was still great. Thanks for sharing!
Cook squash til done using any method you prefer- bake, boil, steam, microwave.
When squash is nearly done, saute onion, green pepper and garlic in olive oil over medium heat until tender. (about 5 minutes).
Stir in tomatoes, salt and pepper, oregano and basil. Simmer together about 5 minutes more.
When squash is done, shred with fork, keeping it inside the shell. Toss with butter. Spoon mixture ontop of shredded squash, top with parmesan.