Spaghetti Squash With Onions, Garlic, and Herbs
Rita1652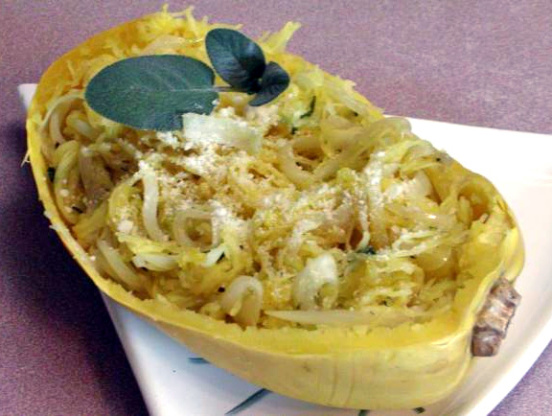 This is a healthy, quick and easy dish. At least once you split the spaghetti squash in half. The rosemary, sage and thyme makes this side a nice, grounding and comforting veggie. Also the sweet sauteed onions and garlic lends it lots of flavor topped with grated parmesan cheese. Servings are either a side or meal. Once you taste it you will continue on to make a meal out of it.

In my microwave, the squash was done at 10 minutes. After scooping the squash from the shell, I drained it in a colander. I used dried rosemary and thought the end result was very yummy. I will certainly make this again. Thank you Rita!
Microwave squash cut side down for 20 minutes till soft and fibers separate.
Meanwhile in a frying pan heat 2 tablespoons of oil and saute onions, and garlic 5 minutes add herbs cook for 2 minutes.
Add squash and toss.
Drizzle with remaining garlic and top with cheese and season with salt, nutmeg and pepper to taste.
Serve and enjoy.