Spaghetti Squash "carbonara" (Diabetic)
PaulaG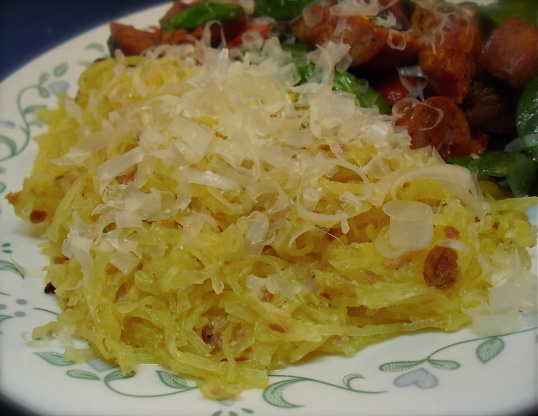 No, it's not a substitute for pasta. It doesn't taste anything like pasta but it's a very nice squash dish. It saves a great many calories and carbs over pasta. Diabetic diets can become rather boreing and I found this a very nice change. It says it will serve 6 and it might if you use it as small side dish servings. I got 3 dinner size serving from it.
Top Review by PaulaG
I cheated on the recipe a little. The squash was cut in half, seeds removed and placed in a microwaveable dish with a touch of water. It was microwaved covered for 15 minutes. The squash was shredded with the fork and then tossed with the other ingredients and garnished with additional cheese. It was served with a sausage and pepper dish. Pasta it's not but it is a good squash dish, low in carbs and calories. Made for *Photo Swap*
Preheat the oven to 350 degrees F. Pierce the squash in several place with a fork. Place on a cookie sheet and bake for 50 to 60 minutes, or until soft.
Remove from the oven and let stand for 5 minutes.
Split the squash lengthwise; remove the seeds.
Using a fork, shred the squash strands into a bowl.
Add the remaining ingredients to the hot spaghetti squash; toss and serve immediately.