karen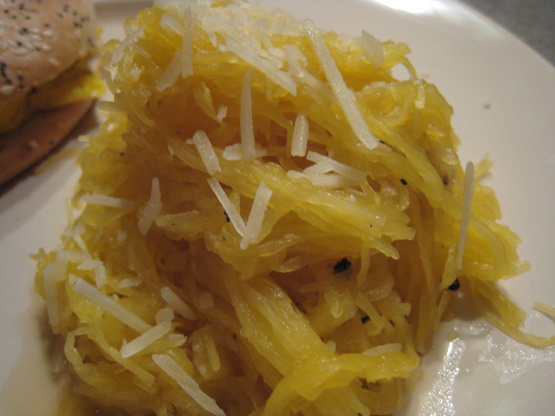 My husband loves this recipe! Some might think the combination of brown sugar and parmesan cheese sounds odd.... but the two ingredients go VERY well with the spaghetti squash. ENJOY! (I never actually measure the ingredients... so feel free to add more or less of whatever you want to your tastes!)

Top Review by karen
I really loved this recipe. It was so easy to make and I loved the combination of flavors from the fresh cracked pepper, brown sugar and butter. I tried it with both a pinch of freshly grated Parmesan on top and plain, and actually think I like it better without the cheese. I think that some fresh herbs from the garden would be a great addition and will be making this again soon.
Pre-heat oven to 375.
Cut squash in half and scoop out the seeds.
Brush the inside of both halves with olive oil and sprinkle with salt and pepper.
Place face down in a pan with about half an inch of water and bake for 30-40 minutes You will know the squash is ready when it scrapes off looking like spaghetti -- not too soft, or it will be too mushy.
Scape off the squash and empty into a bowl ( will look like a bowl of spaghetti).
Mix in margarine and brown sugar -- sprinkle parmesan cheese over the top.