Derf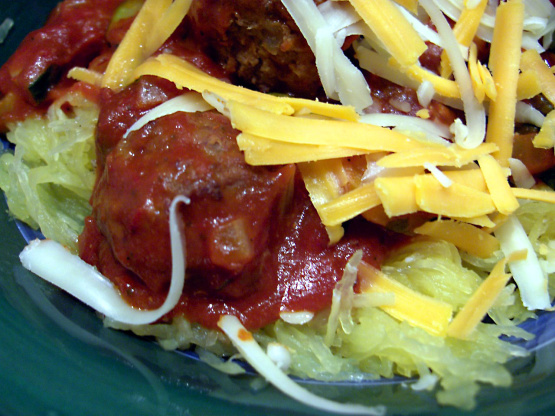 This recipe was given to me by liquidphyre at the SB message board.

Top Review by Derf
This was an interesting recipe because we had never tried spaghetti squash. DH didn't care for it but said it was ok for a change. I liked it and wouldn't mind having it again. I added beef meat balls to the sauce and used two kinds of cheddar for the cheese. It's quite a surprise how the squash comes out looking like spaghetti! Thanks for sharing a nice change from the usual.
Cut spaghetti squash in half, seed and place in a microwaveable dish. Add 1/4 cup of water, cover with plastic wrap and put in the microwave and nuke for 8-10 minute.
In a deep skillet saute onion and zucchini.
Saute until zucchini is slightly brown and then add 1 can of no sugar added diced tomatos (or one with low sugar content).
Add seasonings, stir and simmer.
Once the spaghetti squash is ready, CAREFULY remove the plastic wrap and once cool enough, scrape out the "noodles" with a fork.
Then, with the sauce -- pour all of the sauce EXCEPT half of the zucchini pieces into a food processor and blend. The zucchini really gives it some nice thickness. Add back to the unprocessed zucchini and pour over "noodles" add mozerella cheese and parm. and there you go!