Spaghetti Sauce for Canning
kaymoon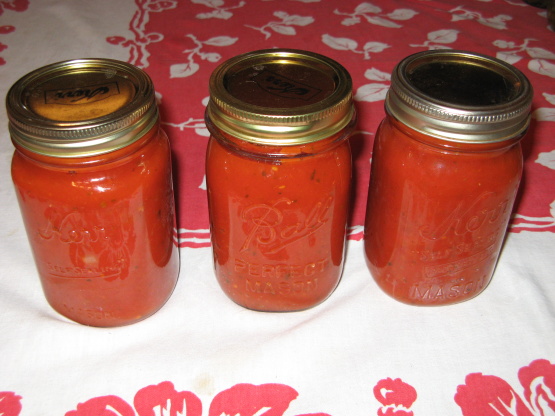 Great tasting sauce. I wanted a recipe that would provide a smooth texture as well as have a few chunks in it. I like chunks but children prefer smooth. A compromise that works for us. Since tomatoes vary in acid levels adjust seasonings and sugar to your tastes.
Prepare tomatoes, washed, peeled and chopped. Reserve 4 cups and set aside.
Prepare garlic. To roast garlic place garlic cloves on aluminum foil and drizzle with olive oil. wrap foil around garlic, sealing edges. Roast at 350 degrees for 30 minute or until tender. Cool and remove papery skins.
Saute 3 cups chopped onion until translucent. Reserve 1 cup and set aside.
Mix all ingredients except reserved tomatoes and onions. Cook tomato mixture over medium heat until heated through and then simmer for 30 minutes.
Using a food processor or immersion blender and puree tomato mixture until smooth.
Continue simmering for another hour to an hour and a half until tomato sauce thickens.
Add reserved tomatoes and onion.
Adjust seasonings to taste.
Heat thoroughly.
Ladle sauce into hot jars leaving a 1 inch headspace. Process pints 20 minutes and quarts 25 minutes at 10 lbs pressure in a steam-pressure canner.