lets.eat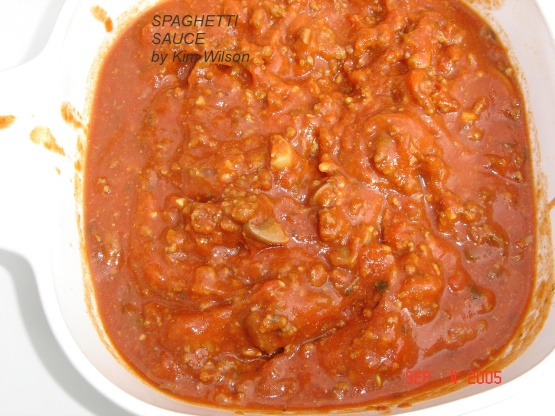 The longer you let it cook the more the flavor stands out. After I've cooked it for an hour, I usually add meatballs or sausage, and let them cook right into the sauce. My Grandmother used to make it in the morning for dinner that night.

Sorry, Kim, I was not impressed. As a matter of fact, quite disappointed. Disappointed because the meatballs you posted are great, and I was hoping the sauce would be just as good. In all fairness, I did not add meatballs to the sauce, I did cook exactly as posted though. I am not a big fan of tomatoes. I am starting to think maybe I just don't like spaghetti sauce. I guess that isn't a fair statement, because I do love it when my Dad (born and raised in Italy) makes his homemade sauce with pasta. I haven't used his recipe because he uses meat, I tried this recipe because I wanted to stay away from a meat sauce. What does, or should spaghetti sauce really taste like? I can't even describe the flavor when my Dad cooks pasta, but it is good. I guess what I didn't like most was it was way too thick for my liking. I like a really "light" sauce. I guess I could have, should have used less paste. Anyway, sorry to say, won't be making this again....my search continues for a great meatless spaghetti sauce.
In a large stock pot stir together crushed tomatoes, tomato puree, and tomato sauce.
Set on medium-low heat and cover.
Meanwhile, in sauté pan heat olive oil over medium heat. When warm, add peppers, onions, and mushrooms.
Sprinkle with a dash of salt and pepper to taste.
Sauté until onions are clear but not browned.
Add sautéed vegetables to stock pot, folding them into the sauce with the oregano and parsley.
Cover, and bring to a slow simmer, stirring occasionally from the bottom up.
Once simmering add the tomato paste, fresh garlic, garlic powder, and onion powder, being sure to mix in throughly.
Turn to low heat and simmer, covered at least 1 hour.
Taste; if too acidy, add sugar 1/2 teaspoon at a time, checking every 10 minutes.