PanNan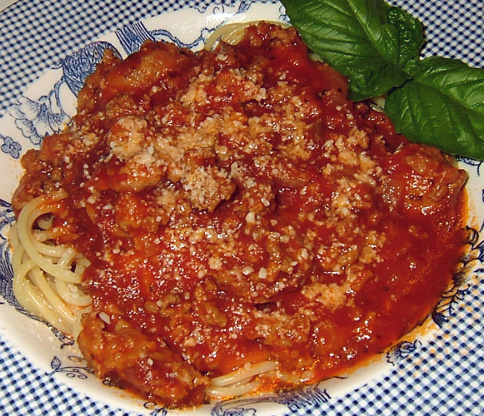 You can alter this recipe to your liking. If my husband had his way he would add mushrooms and black olives.

Top Review by PanNan
This is an outstanding recipe. I made the meatsauce. The combination of Italian sausage and ground beef is wonderful. The only change I made was to use red pepper flakes instead of the black pepper. I served it with a little grated Parmesan cheese. I did shorten the cooking time by using the pressure cooker (30 minutes). DH is still raving about this, and is looking forward to leftovers tomorrow.
In a 8-quart pan saute' onion, green pepper and garlic in oil.
Add tomato paste and water.
Stir until smooth, then add rest of the seasonings.
For Meat Sauce:
In addition to the above ingredients, brown 1 pound Italian sausage and 1 pound of ground beef and add to sauce.
Simmer uncovered for 1 to 2 hours.