gertc96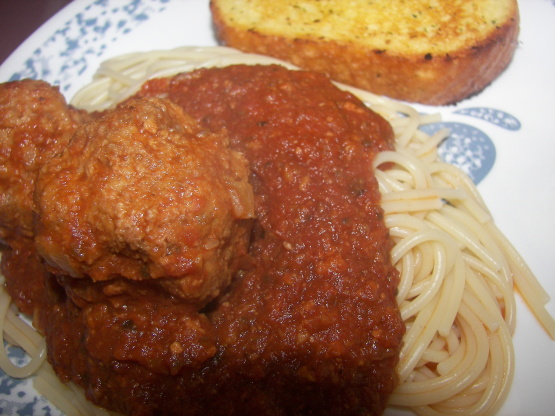 This makes a large batch. I like to make this and divide into 3 or 4 meals and freeze.

This was really good.... I fixed it a tad bit different though... I made some meatballs and placed the sauce on the stove top and simmered it with the meatballs in it for about 3 1/2 hours instead of placing it in the oven....I served this for dinner to my in laws.... It also made enough that I'll be freezing some for another meal... Thanks so much for sharing....
Cook ground beef and garlic, put in a large roasting pan that has a lid.
Peel onions and carrots. Cut into bite size pieces, set aside.
Chop celery and green pepper.
In blender pour some of the tomato sauce, add a few veggies blend, repeat til all the veggies are blended. As well as mushrooms and olives.
If you like whole mushrooms just add to meat.
Add rest of ingredients and bake at 375 for 4 hours.
Stirring occasionally.
Serve with your favorite pasta.