Nasseh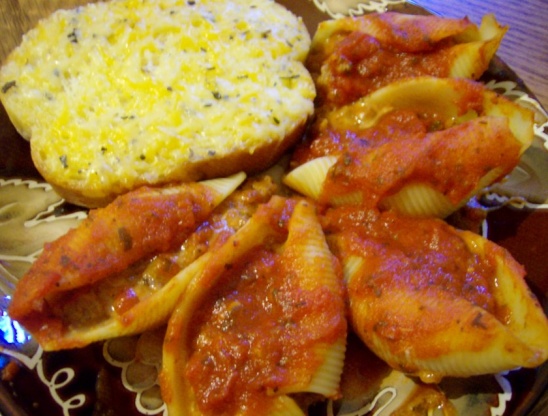 When I found this in an old cookbook, I thought of it as a very novel idea! It's got everything we know and love as spaghetti, only it's in a different form. Try this as a fun diversion of an old standby. :)

Definitely glad that I tried this recipe. We're a cheese loving family, so I added more mozzarella to the beef mixture, as well as some hot pepper flakes (we also love spice). In addition, we added more mozzarella on top of the sauce to give it more of a lasagna feel… overall - WONDERFUL. We have taken this dish to a dinner party, and it was a hit. Thanks!
Preheat oven to 350.
Grease 13x9" baking dish.
Cook beef in large skillet over medium-high heat until browned, then drain.
Stir in onion powder, salt, pepper, and 1 cup spaghetti sauce. Cool and set aside.
Reserve 1/2 cup ground beef mixture.
Combine remaining beef mixture with cheese in large bowl.
Fill shells gently with cheesy beef mixture using spoon.
Arrange shells in prepared pan. Combine remaining 1 cup spaghetti sauce with reserved 1/2 cup beef mixture in small bowl and blend well.
Pour this over shells in pan.
Cover with foil.
Bake 20-30 minutes or until hot.
Garnish as desired.