gailanng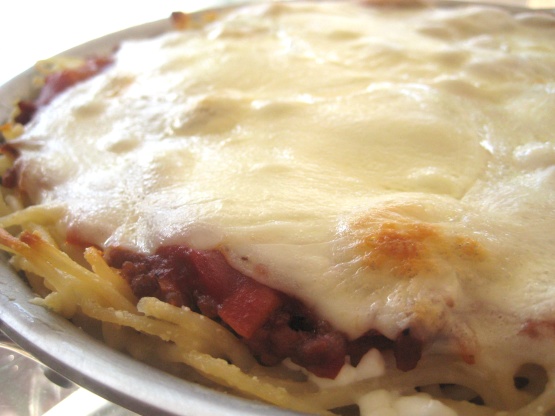 My DS's & my DH love this twist on traditional spaghetti! We hope you'll enjoy it too!

My kids love this, which is enough for me to give any recipe 5 stars. I use my own spagetti sauce, and don't add any ground meat since my saice already has meat in it.
Stir butter into hot spaghetti, along w/ Parmesan cheese.
Add beaten eggs.
Form into a crust in a buttered 10" pan.
Spread cottage cheese onto spaghetti crust.
Brown ground beef& onion.
Add spaghetti sauce to the beef.
Pour into noodle'crust.
'.
Bake uncovered@ 350 for 20 minutes.
Add mozzarella cheese.
Bake 5 minutes longer.