Thorsten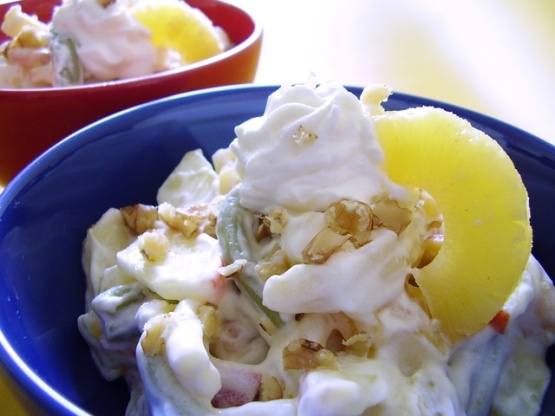 A recipe given to my by a friend

I've made this recipe for years only I use crushed pineapple instead of the tidbits. People are often hesitant to try it because it looks and sounds so strange, but it is great! Thanks for posting one of my all time summer favorites!
In a saucepan, combine sugar, eggs, lemon juice and salt; cook and stir over medium heat until temperature reaches 160 F and mixture is thickened, about 4 minutes.
Cool completely.
Cook spaghetti according to package directions; drain and rinse in cold water.
Place in a large bowl.
Drain pineapple, reserving juice. Pour juice over the spaghetti; stir in apples.
Toss gently: drain.
Stir in the egg mixture and pineapple. Cover and refrigerate overnight. Fold in whipped topping just before serving.
Garnish with walnuts and cherries.