Spaghetti Bolognese With Red Wine
JustJanS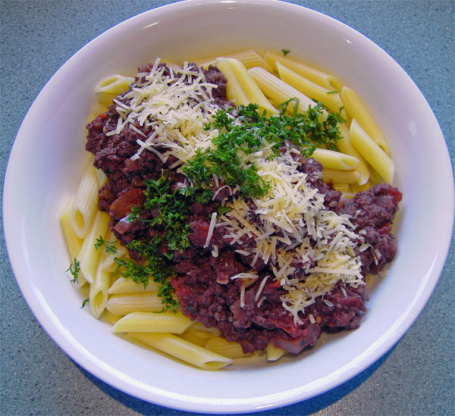 This is an adaptation of a recipe by Ainsley Harriott. My husband usually doesn't like pasta but he finishes this before me and asks for more! It is slightly decadent in that it uses a bottle of red wine but is very good!

Sorry about the rating barb I would like you to check my About Me page to see how I rate recipes :-) I have this recipe by Ainsley, and have often planned to make it, and did so tonight. I marinated the meat last night (maybe too long I think) and cooked this tonight. Russell actually enjoyed this a lot more than I did. I thought the meat tasted just like boiled red wine, with no real other flavours except the chilli. Although we ate it, I wouldn't make it again as I think it (the addition of red wine) made a relatively cheap meal relatively expensive and the flavour didn't live up to that. On a positive note, it was very easy to make.
Place the minced meat, red wine, mixed herbs and salt and pepper in a bowl.
Stir well.
Cover and refrigerate overnight or all day.
Heat oil in pan.
Stir fry onion and garlic until soft.
Add red wine mixture, tomato paste, canned tomatoes, sweet chili sauce and chili flakes.
Bring to the boil then simmer uncovered for 45 minutes or until most of the liquid has evaporated and the mixture resembles traditional bolognese consistency.
(it will be much darker colour than usual).
Cook the spaghetti as mentioned on the packet.
At the last minute, stir the chopped parsley through the sauce.
Add sauce to the drained spaghetti and top with grated Parmesan cheese.
Serve with a nice glass of red.