Boomette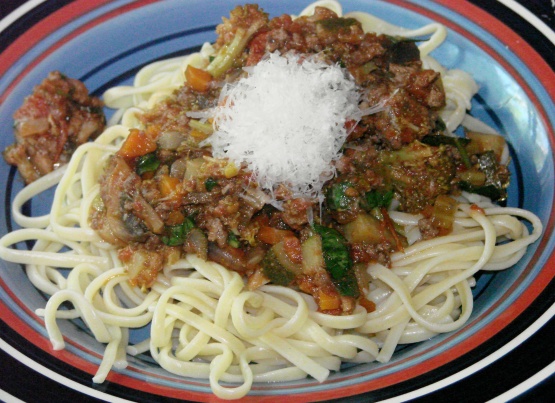 From Australian Better Homes and Gardens Diabetic Living. Saving as many of their recipes here that I can for that's easier than keeping the magazines. Times estimated. To be used in their lasagne. Can be gluten free using gluten free pasta. By making a double batch you will have some to make Lasagne as another meal.

I had to add a whole lot of ingredients to get the taste right for us. I found it much to bland with jusdt the tinned tomatoes. Perhaps it depends on the tomatoes? I added 2 tsp sea salt, 1 tsp dried italian herbs, 1 sprinkle of chilli flakes and a jar of organic tomato pasta sauce. Lots of ground black pepper. So I deviated so far from the recipe - but I did make it as written and then had to add all of the above.
Meat Sauce - heat oil in a large heavy based saucepan on medium and add onion, celery, carrot and garlic and cook uncovered stirring occasionally, for 8-10 minutes or until vegetable start to soften and then transfer vegetables to a large bowl and set aside.
Heat pan on medium-high heat and add mince and cook, uncovered, stirring occasionally, for 3-4 minutes or until mince changes colour and then add tomatoes and water.
Cover and bring to the boil and then add the cooked vegetables and stir to combine.
Reduce heat to medium-low and simmer, covered for 20 minutes.
Now add zucchini and broccoli and cook covered, for 5 minutes and then remove pan from heat and season well with pepper.
Meanwhile, cook the pasta in a large saucepan of boiling water following packet directions, or until al dente, drain.
Divide pasta between shallow bowls.
Stir basil through the meat sauce and then spoon sauce over the pasta.
OPTIONALS - top with parmesan and extra basil leaves and accompany with a salad of your choice, if you like.