Spaghetti and Turkey Meatballs
Karamia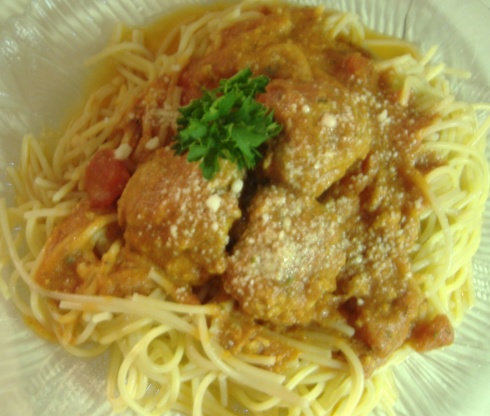 For a quick meal anytime, prepare the meatballs with sauce and freeze in individual portions. From Woman's World, April 24 2007.

Another winner here from jesslems! This was a great and easy to make dinner. The meatballs came out moist and flavorful. I covered the skillet while they simmered and it took about 20 minutes total. I added a half can of leftover diced tomatoes as well. Thanks for all the great recipes!!:)
Cook pasta according to package directions; drain.
Combine turkey, breadcrumbs, Parmesan, eggs, parsley, marjoram, salt and pepper. Shape into 18 balls.
To 12" skillet over medium-high heat, add sauce and wine. Bring to boil.
Add meatballs. Over low heat, cook 10 minutes. Turn meatballs; cook until no longer pink in centers, about 15 minutes.
Serve with spaghetti.