Nif_H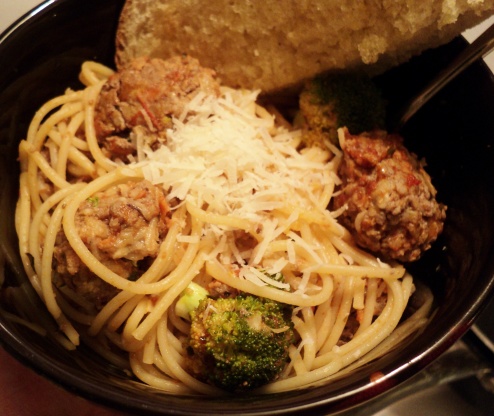 From the local supermarket were we are holidaying and they give a second recipe to use leftovers which I have posted at the end of directions. Times are for the main recipe.

After reading the previous review, I did make some minor adjustments. I decided to leave out the carrota, with the zucchini, I microwaved it, and then put them in the oven for 5 minutes, after that the juices were not that bad. For the meatballs, I baked them for 10 minutes at 400 degrees. With that said, the ending result was fine here. Made for one fine meal for dinner that we all enjoyed, I did halve this, and served with my zucchini meatloaf recipe to make a complete dinner. Made and tagged for Market Tag.
Placer beef, onion, oregano, grated zucchini, carrot and egg in a large bowl and using hands, mix well and form into small sized balls.
Heat a large non stick frypan and cook meatballs in batrches, over medium heat, until browned and cooked through.
Add tomato sauce a bring to the boil, reduce heat, cover with alid or foil and simmer for 20 minutes and then add broccoli florets for last 2 minutes of cooking.
Meanwhile cook spaghetti until tender and drain and toss together with meatballs and serve with parmesan cheese.
LEFT OVERS - Meatball Salad (serves 2 preperation time 10 minutes) - make the salad by combining lettuce leaves, halved cherry tomatoes, blanched broccoli florets, diced lebanese cucumber and crumbled feta cheese and drizzle with 2 tablespoons olive oil and 1 tablespoon vinigar. Place leftover meatballs on top of salad and serve. ALTERNATIVELY - serve meatballs with batons of cut/raw vegetables such as capsicum, cherry tomatoes, carrot and celery.