Monica P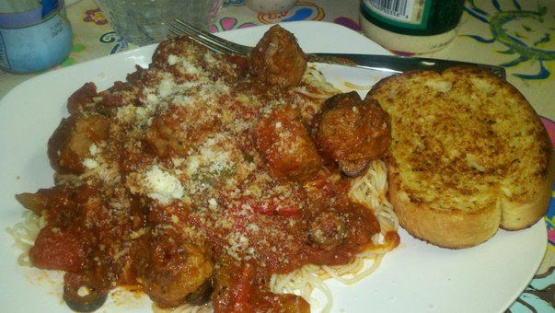 The BEST spaghetti & meatballs recipe we've ever had. I got this from an Italian friend and it's extremely easy. You'll never want to make it any other way after trying this.

WONDERFUL. I have never made spaghetti before and was looking for a tasty recipe. This was was perfect. My husband and I loved it. I made the recipe as it is listed but couldn't get a hold of the fennel head. The only thing I added was red crushed peppers to add a zing to the sauce. Will make this again because it was tasty and overall easy to make. Thanks for posting.
Mix together ground beef, Italian sausage, 1 tsp minced garlic, a sprinkle of fennel seed, small onion, dash of garlic salt, dash of pepper, dash of salt, 1/2 tsp Italian seasoning, bread crumbs, eggs.
Roll into balls and bake at 350 degrees until done (about 20 minutes).
Sauté in 4 1/2 QT or bigger pan, medium onion, 1/2 TBL chopped garlic, chopped fennel in olive oil until onion is tender. Add 1 1/2 tsp Italian seasoning, tomato paste, chopped tomatoes, tomato sauce, red wine, 1 tsp fennel seed, dash of garlic powder, dash of salt & pepper and 1 TBL sugar.
Add the meatballs when they're done baking.
Let simmer for an hour or more. Pan will be very full. I usually use a little less tomato sauce, so it's not so full.
Serve over spaghetti noodles.