Spaghetti Alle Vongole (Spaghetti With Clams)
Thorsten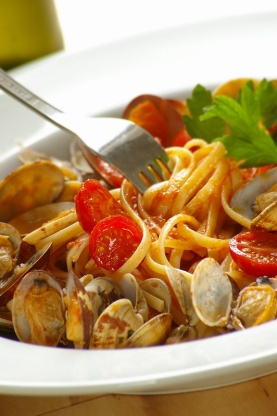 Another authentic dish from friends in Naples, Italy. So easy to make and so delicious. If only my husband wasn't allergic, I would make this at home.

I love any kind of seafood and pasta. And a combo of bothis great. Pasta Alle Vongole is a classical dish of the mediterranean cusine. This recipe is easy to make and the outcome is great. I didn't salt the sauce, I used a anchovy fillet to salt it and to add some additional flavor as it is often done in Italy in these kind of dishes. Served it with a glass of a dry white wine and with some bread to dip up the rest of the sauce. Thanks for sharing this recipe.
Saute garlic and pepper in the oil. Add the tomatoes and cook 10 to 15 minutes over medium flame. Add clams, cover and cook 5-10 minutes, stirring frequently. Clams are cooked when they are opened.
Serve over spaghetti or your choice of pasta cooked al dente. Don't eat any of the clams that do not open.