teva_ca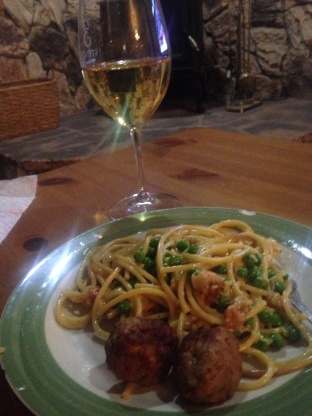 This is from an italian cookbook that i won at a social about 10 years ago. It's one of the easier recipes in the book. Very tasty.

Very easy and tasty recipe. I love using pancetta, because the saltiness adds so much flavor to the dish. I like a bit more substance in my carbonara, so, I did add peas, more Parmesan, and a few tbles of heavy cream. I will make it again, without the peas and cream.
Cook spaghetti according to package directions.
Meanwhile, put butter and olive oil in small skillet over medium high heat.
When butter has melted, add the pancetta (i prefer to use bacon) and cook until it is well browned but not crisp.
Add the white wine and continue cooking until it has been reduced by about half.
Remove from heat and set aside.
In a mixing bowl (large enough to hold the pasta) lightly beat egg yolks with the grated cheese, parsley, pinch of salt, and a generous amount of fresh black pepper.
When pasta is cooked, drain it and add to the mixing bowl containing egg yolks and cheese.
Toss until pasta is coated, then add the hot pancetta mixture.
Toss again then serve at once.