teresas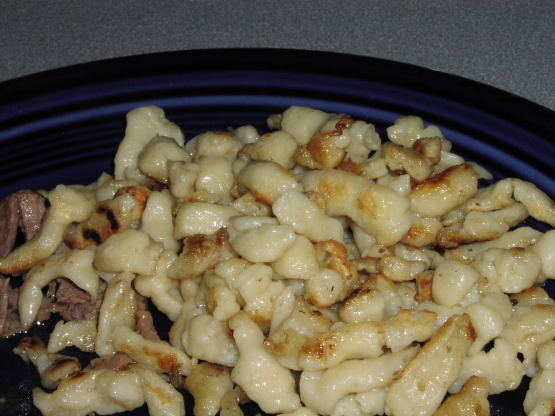 (I like to put sauteed onions with this) Good substitute for potatoes.

As a German National, growing up in the birthplace of Spaetzle in the Swabian community, having had Spaetzle twice a week since I can remember, I have to tell you that Spaetzle are not made with milk. You just use water. In the old days Spaetzles dough was made thinner and put on a cuttingboard then scraped into boiling water. It only takes a couple of minutes..less then 5, for Spaetzle to be done. I actually have a spaetzlesmachine where you fill in the dough and it comes out looking like spagetti, but you stir them up and they break a little, cookingtime is 2 minutes...once they boil take them out. Spaetzlesmachine is much like a potatoricer, there are places on the web where you can buy those. Thats authentic Spaetzle. Sometimes my Mom just made Spaetzle, browned some onions in butter and put them over the spaetzle, serve with a fresh green salad and you got a complete meal.
Beat eggs well; add remaining ingredients and beat until the dough blisters.
Drop from the tip of a wet teaspoon into boiling salted water.
Cook until tender (about 15 minutes). Drain.
Toss with melted butter.