Sageca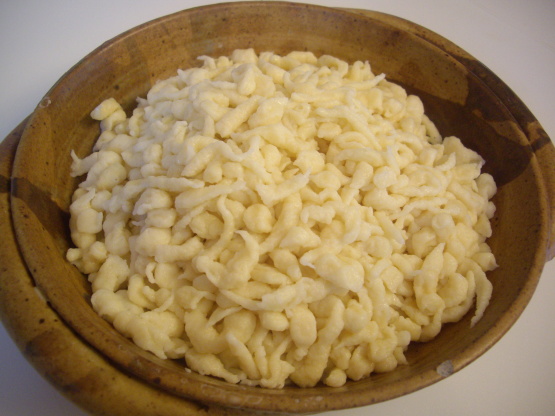 Home made German dumplings. If you can find a Spaetzle maker, it makes the job easier.. The chef in the family, my son, tells me that they are better, if you melt some butter and sauté a chopped onion, then you add your cooked spaetzles, let them absorb the flavour and serve. He is right.

Am I allowed to give 100 stars? Saw this on one of the food network shows but didn't jot down the recipe, so I tried yours. I have no idea if I did it right since I've never had spaetzle before, but I do know it was DELICIOUS!!!! I added a little garlic powder to the batter and it was perfect just like that... I put some butter on it but it probably didn't even need it! Thank you for sharing!!!
Bring a large saucepan of salted water to a boil.
Reduce heat and maintain water to a simmer.
In medium bowl, combine all the ingredients into a batter.
Place a colander over the pan of water. Pour about ¼ of the batter in the colander and press through the holes into the water with a spatula.
When dumplings begin to float, cover pan and simmer about 5 minutes until they appear to swell and are fluffy.
Remove dumplings and repeat with remaining batter.
Tips.
They freeze very well.