Soybean Succotash With Sesame Ginger Vinaigrette
PaulaG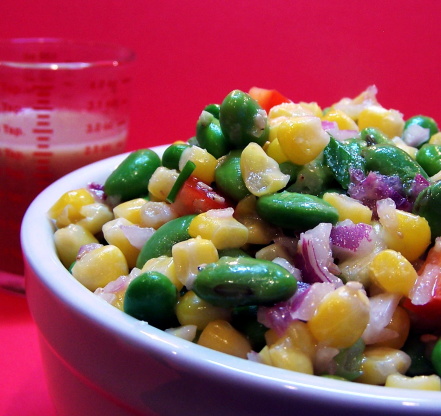 Soybeans (edamame) have long played an important part in Asian cuisine. This wonderful vegetable is becoming ever more popular in American cuisine. These beans are high in protein and fiber while being low in saturated fat making them a wonderful addition to a healthier diet.

I like the assortment of veggies in this but for me the dressing was too sweet.I might try again with half the amount of sweetener.
Steam the corn and edamame as directed on package.
Place under cool water and rinse to cool; drain well.
Mix the corn and edamame with chopped vegetables and sprinkling of salt.
Mix together the dressing and pour over prepared vegetables; cover and refrigerate several hours to allow flavors to blend.
Serve chilled.