CathyNH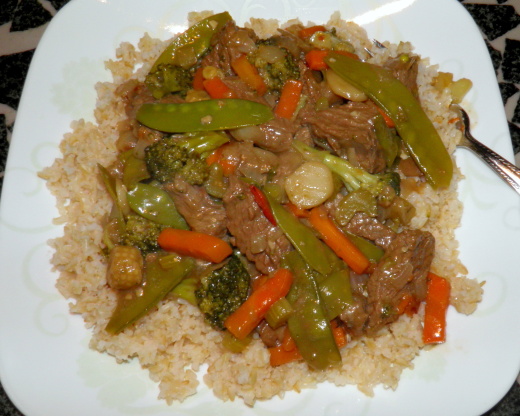 I didn't feel like grilling yet another steak tonight, and I had some vegetables that needed to be used up, so I came up with stir-fry. Feel free to substitute whatever vegetables you have on-hand or like better. The sauce has a nice bite, so reduce or omit the red pepper flakes if that's not what you like.

Wow! Thank you so much for this recipe, "Don't Trust the Recipes!"!! I loved it! I doubled the recipe and substituted the veggies with 2 frozen stir fry vegetable bags and added some sugar snap peas. I followed everything else exactly. The sauce is just incredible!... and does have a nice bite to it. I loved it that way but think the next I'll have to add less red pepper flakes to accommodate my 2 year old. Thanks for posting!
Chop all the vegetables first, you won't have time if you start cooking first.
Cut the steak into bite-sized pieces, or strips against the grain if you prefer. In a small bowl or measuring cup, mix sauce ingredients together well with a whisk.
In a wok or huge skillet, melt the butter over medium-high heat until very hot, then add the garlic, onion, and steak pieces. Stir-fry 3-5 minutes, until meat is mostly browned.
Add all the vegetables; stir-fry 2-3 minutes. Pour the sauce over the entire pan, and continue stir-frying another 5-10 minutes, until steak is desired done-ness and vegetables are crisp-tender.
Serve over rice.