Catnip46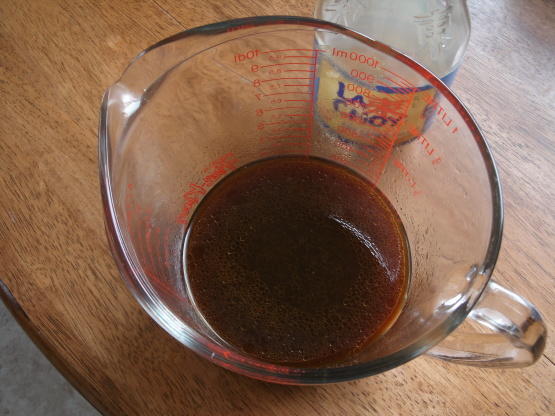 This recipe was printed in the Spring 2007 edition of Cooking for 2. I needed soy sauce today and gave it a try. It is pretty good and lower in sodium.

All week I've been making recipes calling for soy sauce and I was out and the winter weather was too bad to go out into. I had to substitute with teriyaki sauce. Now that I found this recipe none of the recipes I'm making are calling for soy sauce, story of my life. But I made up a half batch for the future. The vinegar made it taste salty so I added more molasses to make it more sweet. Does it taste like my La Choy soy sauce, no but I've put it in an empty La Choy bottle and I bet no one else will be able to tell. Sometimes you just need to outsmart them.
In a small bowl, mix together the bouillon and boiling water.
Stir in the remaining ingredients.
Pour into a jar with a tight-fitting lid; store in refrigerator and shake well before using.