Soy Sauce Eggs -- Bento Eggs
Weewah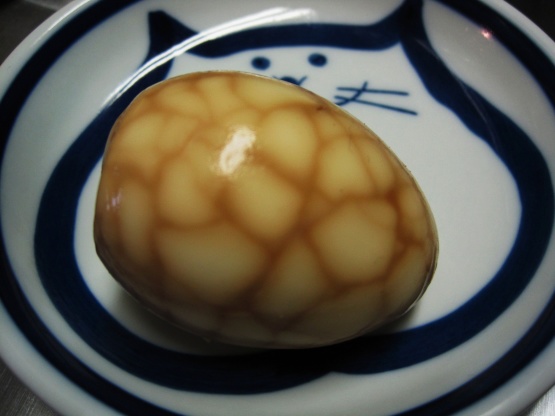 These eggs are really different from your standard hard boiled eggs and my kids love to have the in their bentos. The trick is to only medium boil the eggs initially and then crack or peel them and finish them off in the soy sauce broth. I use the smallest eggs I can find to do these, so that my kids can have two eggs and I don't have to feel guilty. The eggs aren't supposed to be overwhelmingly seasoned, but if that's what you're looking for, leave them in the broth for a longer period after boiling. I routinely double the recipe by increasing the number of eggs, but leave the amount of the broth ingredients the same.

These eggs are great!!! I used light Kikkomen soya and powdered ginger. I didn't have fresh. I also used a wide shallow sauce pan to finish cooking the eggs in the broth and kept rolling them with a spoon. I could not get small eggs.I peeled and sliced them when they were cool and served over a fresh spinach salad with an oriental sweet spicy mustard dressing.
Boil the eggs until they are just coagulated, and place them immediately in cold water. You will need to PEEL the eggs or crack them well, so the egg whites need to be firm enough to withstand this.
Tap eggs gently all over to cover with cracks or peel them entirely. Cracking the eggs will give them a mottled look that is really beautiful, but peeling them will give them a consistent coating.
Add the eggs to a pot that is small enough that when filled with 1 cup soy sauce, 1 cup water, 1 slice of ginger, and half teaspoon of five-spice powder, the liquid completely covers the eggs.
Simmer over low heat for 25 to 30 minutes, then let steep for another 1/2 hour. Cool.
If you have left the shells on, crack open the eggs and peel them.
Slice into wedges and serve.