Soy Sauce Chicken for the Birthday Girl
Luschka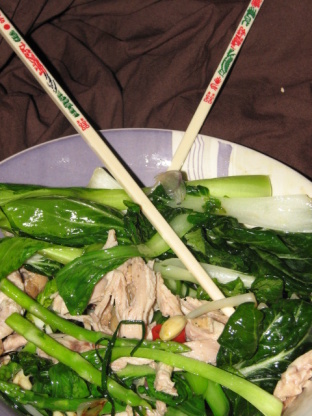 Unusual and festive! Traditionally in China this would be made with a whole chicken, but this rendition from Eileen Yin-Fei Lo is better for you! She remembers having the original version at birthday celebrations for her grandmother Ah Paw. She recommends serving it with stir-fried string beans.

Unfortunately there are not enough words in the English language to say how amazing this meal is. Leaving the chicken to marinade for an hour was nothing short of sadism, but it was SO worth it! The flavours soaked through right to the bone and it was a fantastic. Instead of a sauce or dressing on the stir fry, I poured two tablespoons of the marinade over and it was just fantastic. I must admit that I had a really good stir fry too, with pak choy, bok choy, asparagus, chillis and peanut and shallot roots. I am really tempted to freeze the left over marinade so that next time I am having chicken I can just pop it in the bowl and leave them to defrost together, so marinading the uncooked chicken all day. I can't sing the praises of the new favourite enough. Reviewed for Phototag 2008
In a large pot, place the stock, cinnamon, anise, ginger and sugar, and bring to a boil over high heat. Add mushroom soy sauce and bring back to a boil. Lower heat and allow to simmer for 20 minutes. Turn heat back to high, add the wine, and return to a boil. Lower chicken breasts into liquid, meat side down, and bring back to a boil. Lower heat, cover and simmer for 12 minutes. Turn chicken over and simmer for another 12 minutes. Turn off heat, leave cover on, and allow chicken to rest in liquid for one hour.
Remove chicken from pot. Remove skin and bones. Slice across into 1 1/2-inch pieces. Place chicken in a dish and serve.