Soy Glazed Chinese Chicken Wings
teresas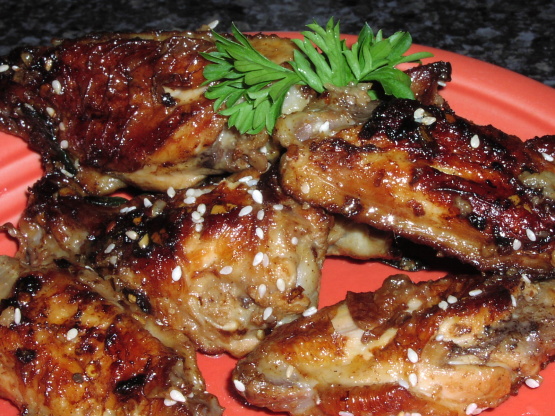 An easy chicken wing appetizer cooked on top of the stove. Prep and cook times do not include overnight marinating. Buy sesame oil and store in your refrigerator - it is pretty essential when called for and will get rancid tasting if left out for weeks or months. Also take care not to use too much, it is very flavorful.

These turned out nice and tasty...but both hubby and I were a bit disappointed that they weren't very crispy...I guess adding the chicken broth and steaming them removed the crispness from the frying...we did enjoy the flavors...this isn't a quick wing dish...it does take what I call busy time...not including the marinading...but the actual cooking process...next time I think I will try skipping the broth and see how they come out...thanks for posting the recipe...=)
Combine soy sauce, sherry, sugar, two-thirds of the minced garlic, and red pepper flakes in a large bowl to create marinade. Stir in wings and turn to coat. Marinate overnight in the refrigerator, turning 2 or 3 times.
Heat vegetable oil in wok or large skillet over hight heat. Drain chicken wings, reserving liquid. Cook wings, in batches, 10 to 15 minutes until browned on all sides, turning occasionally. Remove each batch and set aside. Pour off any remaining oil.
Add remaining garlic and onions to wok or skillet and cook 30 seconds. Add wings and chicken broth, cover and cook 5 minutes or until wings are tender, stirring occasionally to prevent sticking.
Combine reserved marinade with cornstarch, stirring until smooth. Add mixture to wok or skillet and stir fry about a minutes turning until wings are coated and appear evenly glazed. Turn off heat and add sesame oil; mix well. Sprinkle with toasted sesame seeds and serve.