Soy Ginger Swordfish With Avocado Butter
Liza K.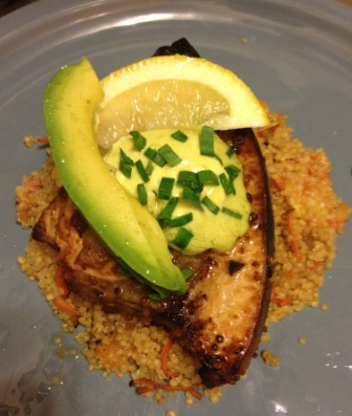 This is an easy and flavorful recipe adapted from "The California Heritage Cookbook". The avocado butter is amazing and can be used on anything. You can replace the swordfish with any dense meaty fish like tuna or salmon.
Fish:.
Combine all fish ingredients in a large Ziploc bag. Add swordfish steaks. Refrigerate for 1-3 hours, turning and massaging a few times.
To cook, place fish on a preheated broiler pan brushed with oil. Broil 5-6 minutes on each side or until fish flakes easily when tested with a fork.
You may also barbecue this. If you do brush it with the marinade often.
Avocado Butter:.
In a medium mixing bowl beat butter and avocado with an electric mixer until soft and creamy. Beat in remaining ingredients.
Place in a decorative dish and refrigerate until firm and ready to use. A melon baller works great to scoop out balls to place on the hot fish.
Serve:.
Place your hot fish on a dish. Top with avocado butter. Garnish with fresh chives and a lemon wedge.