Soy Balsamic Chicken Thighs
Ravedeb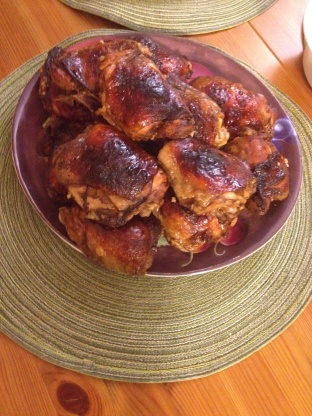 Found this in a cook book I got at the library, have been using a lot of balsamic vinegar recently and this recipe appealed. The flavours are delicious and its so easy. Prep time includes marinating.

Top Review by jrusk
Outstanding! I think this is similar to Japanese Mum's Chicken Recipe #68955 but it's ever better b/c it's baked and you don't have to watch it. I marinated 4 chicken thighs for 8 hours. I placed then skin side down for 15min. and flipped for 15min., perfect. I didn't use low sodium and I didn't think it was too salty. I followed the directions and I wouldn't change anything the next time around.
Mix together the soy sauce, balsamic vinegar, sugar, garlic, salt and pepper until the sugar is dissolved.
Put cleaned and dry chicken thighs in a large sealable plastic bag, add the soy mixture, force out excess air and leave to marinate for up to 24 hours.
Preheat oven to 425F Transfer chicken and marinade to a large shallow baking pan (do not crowd chicken) then roast in middle of oven turning twice until chicken is cooked through for about 35-40 minutes.
Arrange chicken on serving dish.
Skim fat from the pan juices, place baking dish across 2 burners on top of stove add 1/3 cup water and deglaze over mod high heat stirring and scraping up brown bits, do this till reduced to about 1/4 cup.
(approx 2 minutes) Spoon sauce over chicken.
* As you can see a few have found this too salty for their taste.I suggest you use a salt reduced soy sauce if your tastes prefer a less salty dish.