Soy and Ginger Glazed Tofu
Prep 30 mins
Cook 16 mins

I love tofu...I like how it picks up the flavor of whatever sauce it's coated with. I especially liked this recipe where the tofu is browned a bit before having the sauce poured on top. This can be served warm or at room temperature. It would be a good addition to a bento box (Japanese boxed lunch). I found this gem in the Chicago Tribune, which attributes it to Ron Bilaro.
Directions
Stir cornstarch into water in a small bowl until dissolved; set aside. Heat vinegar, soy sauce and sesame oil in a small saucepan over medium heat; whisk dissolved cornstarch into the soy mixture. Cook, whisking, until mixture starts to thicken, about 20 seconds. Remove from heat and stir in ginger and garlic. Set aside.
Spray a large skillet with cooking spray; heat over high heat. Add tofu and cook, turning turning several times, until all four sides of the block are beginning to brown, about 2 minutes each side. Set aside for 2 minutes and then slice into 6 slices. Transfer to a platter and pour soy mixture over slices, then garnish with the chopped green onions.
You can slice and brown the tofu any way that you prefer -- cut it into logs, blocks or even little bunny shapes if that's what you like!
Reviews
Most Helpful
Oh, this was not what I expected it to be, but it was still quite tasty. I was pleased. The vinegar made it tart, and the cornstarch thickened the sauce up a bit. I might try this with teriyaki sauce too. I liked the effect the browning had on the texture of the tofu. If you want to brown this on all sides, just make sure you cut it up evenly which is what I did. I've always loved tofu myself:D Thanks for this terrific recipe JJ!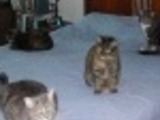 Delicious! Easy to prepare! I've made this twice since I discovered this recipe. I did substitute teriyaki for the soy, since I like a bit of sweet in the sauce. Just all around fantastic! Thanks for putting the recipe out there! Love it, Love it, Love it.
I've only ever had tofu once and i absolutely hated it! I thought i would give this a try on the basis of "If I force myself to eat enough of it I'll like it eventually" This was absolutely divine! i was a bit concerned when i took the tofu out of the packet and had to take a deep breath before i tried it butg yum, yum, yum even the carnivore other half liked it! I served this with Lemon noodles (#9993)mmmm...