Soutzoukakia (Greek Meatballs in Tomato Sauce)
PanNan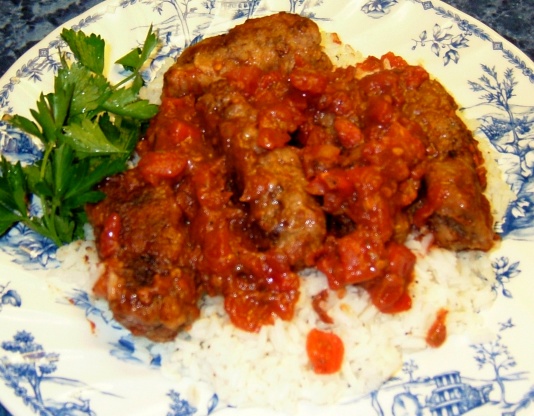 This was posted for the Zaar World Tour 2005. You will often fins cinnamon used in Greek meat dishes, and this is one of them. Nice with rice.

I made this with ground turkey for less fatty taste. The only issue with the recipe is it seems to say you should add the wine to the meat mixture and then says you should add the wine to the sauce. I ended up adding the wine to the meatballs and they turned out moist. Only used 1/2 tsp cinnamon and it was enough for us.
For the meatballs, mix the ground beef, garlic, cumin, white wine, bread (squeeze out the wine and reserve to be used in the sauce) and egg.
Season to taste with salt and pepper.
Shape into approximately 30 sausage shaped patties, roll in flour and fry in oil until cooked through.
Remove from pan, set aside on a plate covered with paper towels.
For the sauce, bring the tomatoes stock and butter to a boil.
Add the wine and the seasoning and simmer until sauce beginns to thicken.
When the sauce starts to thicken, add the soutzoukakias and simmer for a further ten minutes.