Southwestern X-tra Thin Crust Seafood Pizza
Bergy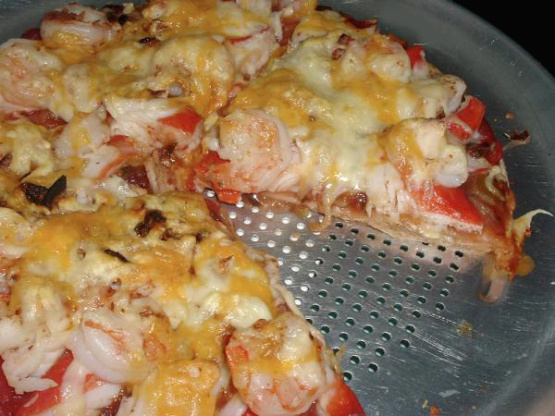 I made this up for our weekly Photo Club competition & IMHO it is very good - hope you think so too. Use any mix of seafood that you like, make it hotter, more garlic etc etc - that's what a pizza is all about. This one suits my taste buds. To bake it I used the type of pizza pan that has holes in the bottom to allow heat in to crisp the bottom. Make up ahead and keep in the fridge for several hours then pop it in the oven 20-25 minutes before serving..
Paint the butter on the top of each tortilla paying attention to the outer edges, stack one tortilla on top of the other,press together& place the three tortillas on your pizza pan or pizza baking stone.
Preheat oven to 400°F.
Spread on the Black Bean Salsa, bring it out to the edges.
Spread on the crab and prawns.
Sprinkle on the dried onions and garlic.
Then add the cheese, distributing it evenly.
Pop into the pre heated oven for 20 minutes or until the cheese is bubbly and starting to brown.
Enjoy (I hope).