Southwestern Style Fettuccine
Rita1652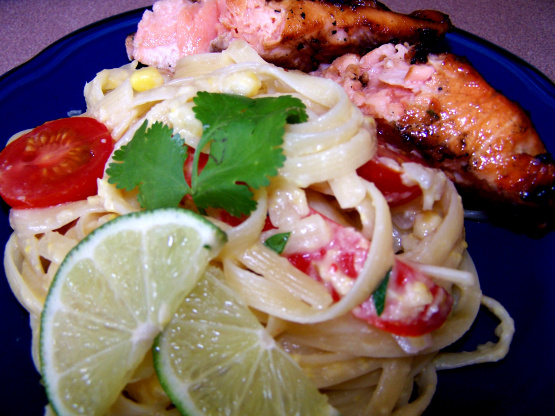 Found this recipe in a magazine years ago. It's a nice twist on fettuccine alfredo -- using creamed corn as the base for the "alfredo sauce." RitaL suggested adding jalapeño peppers. I think this is a great idea. I'll be making this recipe next week (May, 06) and will try it with serrano or jalapeño chiles.

Very nice, different! I think I'd omit the cumin seed in future, pleasant, but I wasn't wild about it, personal taste. Loved the red pepper and coriander, though! I used ordinary cheddar, I think my husband would really enjoy it with the added jalapenos, but the children don't care for them. I loved the corn sauce, and fried bacon and added it everyone elses, very much enjoyed. Thank you Kathy, for a different pasta supper!
Cook fettuccine until just tender, 8-10 minutes.
Drain and keep warm.
Meanwhile, purée cream-style corn and milk in blender or food processor. Set aside.
Heat oil in a large skillet over medium-high heat.
Add cumin, onion, and bell pepper.
Stir often until onion is soft (5 minutes).
Add water 1 tablespoon at a time if the pan is dry.
Stir in corn/milk, 10 ounces of corn, and cheese over medium heat until cheese melts.
Pour sauce over pasta; add cilantro; mix gently.
Garnish with cherry tomatoes. Season to taste with lime and salt.