Southwestern Stuffed Bell Peppers
Diana Yen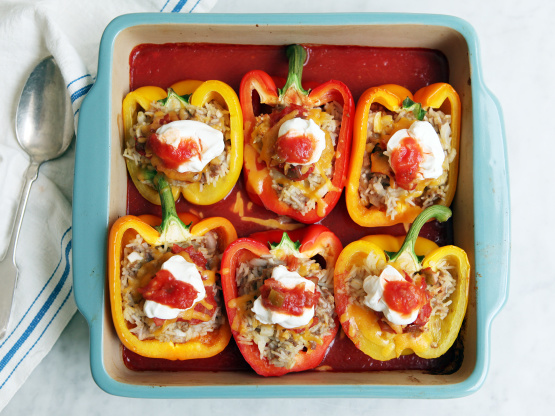 Simple preparation & delicious taste! Use a mixture of red, green, yellow & orange peppers for a colourful presentation. Taco Seasoning Mix instead of store-bought taco seasoning mix--it makes this dish even better!

Top Review by Ivana
This recipe is so delicious, easy and economical - just the way it is. Next time I will tweak the recipe for my personal taste by adding a tin of tomato soup to the can of diced tomatoes to make more sauce, adding bay leaves and a teaspn of sugar(helps to cut down the acidity of the tomatoes).I did add seasoning, minced garlic, chili flakes and parsley to the mince when I made it - so would do this again. I would omit the salsa (I did not feel that it needed it - the dish is very tasty on its own). The sour cream is a nice addition. I can't wait to eat the leftovers tomorrow - something I rarely say. Thanks for the great recipe!
Combine beef, onion, seasoning mix and egg in a large bowl.
Add rice and mix well.
Cut peppers in half lengthwise; remove seeds and membrane.
Spread tomatoes on the bottom of an ovenproof 12 X 9 inch baking dish. The liquid from the tomatoes will reduce during cooking so if (like me) you like lots of sauce, add about a cup of water. This also helps make the peppers softer.
Place peppers, cut side up, on top of the tomatoes.
Spoon beef mixture into peppers, mounding as necessary.
Top each pepper with salsa.
Bake in preheated 375°F oven for 40-45 minutes or until beef is cooked thoroughly and peppers are soft.
Cover each pepper with cheese and return to oven, under the broiler, until the cheese melts- less than a minute, so watch carefully!
Serve with sour cream and additional salsa.